Train Simulator 2013 Deluxe Plus DLC-IPT (PC/ENG/2012)
English | Platform: PC | Release: 2012 | Publisher: Excalibur Publishing | Developer: RailSimulator | 2.162 GB
Genre: Simulator
The best just got even better! RailSimulator.com pushes the boundaries of simulation once again with Train Simulator 2013, the latest addition to the multi-award winning series. Feel the power as you drive some of the world?s mightiest machines on railroads across the globe. Master these heavy duty trains as you complete missions and face fearsome challenges, build your career or simply drive for pleasure. Use the built-in tools to create new railroads, or add to your collection from our huge range of DLC locos and routes.
TRAINS
Amtrak Acela Express
About the Game
The Acela Express hauls North Americas famous Amtrak high speed rail service between Washington D.C. and New york City. Now available fully-optimized for Train Simulator 2012, the Acela Express is highly detailed and includes all the familiar features of the real thing, including the tilting system which enables the train to take bends at high speed.
The Acela Express is the only train in North America which exceeds the Department of Transportationís 125mph minimum speed for true high speed rail services. It was designed specifically to operate along the Northeast Corridor serving the bustling cities of Washington D.C, Boston, Baltimore, Philadelphia and New York City, and can reach up to 150mph though it is restricted to lower speeds for much of the route. Each Acela Express set comprises two power cars running on 11,000 volts via overhead power cables, plus First and Business Class coaches. The Acela power cars develop 6,000 horsepower and with one at each end of the train, high speeds can be reached and maintained over long distances, with the in-built tilt mechanism allowing bends to be taken at speed without passenger discomfort. The Acela shares some design features with the French TGV, though its passenger cars do not share central bogies like the TGV, and they are heavier due to Federal Rail Administration safety standards.
NOTE: The Acela Express requires the Northeast Corridor Expansion Pack to run.
Includes:
Acela Express train set in Amtrak livery with power car, first class car, business class car. Acela features operating tilt function, authentic sound effects, opening front hatch, flashing ground lights and detailed cab interior including functioning digital instrument readouts and in-cab signaling.
Standard / Career Scenarios:
Acela Express - Drive the Acela Express from Philadelphia 30th Street to New York City
Business Bullet - Another day, another dollar. Take the morning commuters into New York, via Newark, starting at Tenton.
Silver Star - Drive an early service from NYC Penn Station to Trenton, Calling at Newark and Metropark on the way.
Strathclyde Class 101
About the Game
The Class 101 was one of the largest classes of first generation Diesel Multiple Units on the British railway network, and you can now experience this DMU for Train Simulator, upgraded from a previous Class 101 pack and in the striking Strathclyde Passenger Transport (SPT) livery.
Built by Metro-Cammell Works in Birmingham from 1956, the Class 101 was made up from a number of sub-classes, making them the most numerous and possibly most successful and well known of first generation DMUs. Sets were supplied in two, three and four car sets, depending on the service they were intended for, and passenger accommodation was provided in first and standard class configuration.
With more than 500 units built, the Class 101 could be seen on routes across the country and saw service many years into the privatization of Britains railways. The final five units survived 47 years of service, finally being withdrawn on 24 December 2003, but thanks to their longevity many units have been preserved on the countrys heritage railways.
Re-skinned and upgraded from an earlier Class 101 pack, the Class 101 for Train Simulator 2013 is available in Strathclyde Passenger Transport (SPT) black and orange livery, the first such time the distinctive livery has appeared on any Train Simulator model. Features include manual gear change control, fully detailed cab and control panel, in-cab lighting and an upgrade to TSX standard features. Also included are a number of exciting scenarios for the West Coast Main Line.
NOTE: The West Coast Main Line Add-On is required to play the scenarios included with this Add-On.
Three scenarios for the West Coast Main Line route:
Gearing Up
Slip and Slide
Strathclyde Showers
Key Features:
Class 101 in Strathclyde Passenger Transport orange and black livery
DMCL, DMBS, DMSL, TCL, TSL and TBSL rail vehicles
Manual gear change control
Fully detailed cab and control panel including instrument backlighting
Upgraded TSX effects
Scenarios for the West Coast Main Line
Quick Drive compatible
Union Pacific Challenger
About the Game
The mighty Union Pacific Challenger 4-6-6-4 is now available for Train Simulator, featuring four exciting and challenging scenarios specially created for the Sherman Hill route.
The stiff gradients of the Wasatch Mountains demanded newer, more powerful and efficient locomotives, leading to Union Pacific's chief engineers to design a 4-6-6-4 steam locomotive that utilized two sets of driving wheels each with their own steam cylinders. The Challengers impressive articulated wheel arrangement made it one of the most successful large steam locomotive designs ever developed and was considered to be one of the most technologically advanced of its kind, providing both high horsepower and efficient operations.
Their mammoth weight made the Challenger a regular sight on UP's heavy mountainous freight routes but they were also put into service on the occasional passenger service through mountain territories to California and Oregon. In total, 252 Challengers were built between 1936 and 1943 by the American Locomotive Company and Baldwin Locomotive Works, just less than half for UP.
The Union Pacific Challenger V2.0 for Train Simulator is available in two liveries - the famous Union Pacific black livery and Union Pacific lined grey livery. Key features include TSX effects, new smoke and steam particle emitters, and enhanced cab interior.
Scenarios:
Four scenarios for the Sherman Hill route:
Challenger Intro Run
Challenger on Sherman Hill Cheyenne to Laramie
Challenger Working at Wycon
Challenger Working the BNSF Stub
Key Features:
Union Pacific Challenger in Union Pacific black and lined grey liveries
Realistic cab interior and sounds
Improved locomotive physics and TSX effects
Realistic raindrops and correct headlight illumination
New smoke and steam particle emitters
Quick Drive compatible
Class 390
About the Game
The Class 390 is a modern classic, and you can experience the speed of this powerful tilting express train from the drives seat in Train Simulator.
The Class 390 is one of the fastest electric multiple units operating in Britain. The set can reach 140 mph, whilst featuring tilting train technology to allow higher speeds around bends. At present, the Class 390 operates along the West Coast Main Line and is well-known to commuters and rail-fans alike for its sleek looks and high performance. In 2006 a Class 390 set a new speed record along the West Coast Main Line, completing the 401-mile trip from London to Glasgow in 3 hours and 55 minutes, and in usual operation the sets will run up to 125mph where track conditions allow. The Class 390 for Train Simulator recreates the smooth high performance well-known to drivers on the West Coast Main Line, and features a realistic tilting function which mimics the action of the real thing.
Includes:
Class 390 tilting electric multiple unit in Crimson Lake, Navy & Orange and Intercity Swallow liveries
A complete train is made up of the following vehicles:
Driving Motor Second Open
Motor Second Open
Pantograph Trailer Second Restaurant / Mini Buffet
Motor Second Open
Trailer Second Open
Motor First Open
Pantograph Trailer First Open
Motor First Open Disabled
Driving Motor Restaurant First Open
LEVELS
The Northeast Corridor
About the Game
The Northeast Corridor is the United States premier passenger railroad line, linking Boston to Washington DC and moving thousands of passengers daily through this extremely busy part of the country. It ia also North Americas only high-speed line operating at speeds up to 150mph. The Northeast Corridor Expansion Pack puts you in the cab of the classic EMD AEM-7 locomotive along the 90-mile core section between Philadelphia and New York City.
The railroad known today as the Northeast Corridor was in place from the early years of the 20th Century, with electric services between New York City and New Brunswick beginning in 1932, and with electrification as far as Trenton by 1933. The line was operated by New York Central and the Pennsylvanian Railroad (merging to form Penn Central Transportation) for many years until Amtrak took over intercity services in the early 1970s. In the late 1990s the Northeast High Speed Rail Improvement Program (NHRIP) was implemented in preparation for the high speed Acela Express service. The EMD AEM-7 electric locomotives, as featured in this expansion pack, were produced by the Electro-Motive Division of General Motors between 1978 and 1988, and the AEM-7 soon became a familiar sight as the workhorse of the Northeast Corridor.
The Northeast Corridor Expansion Pack is a faithful recreation of this bustling high-speed line, with fabulous skylines, miles of railroad to explore and hours of challenging driving for you to enjoy!
Key Features:
90-mile route from Philadelphia 30th Street Station to New York Pennsylvania Station, with realistic signalling and track work, stations, cities and scenery.
AEM-7 in Amtrak livery, with accurately recreated cab and controls including functioning in-cab signalling system.
Amfleet steel-bodied passenger coaches in Amtrak livery, including Coach and Cafe variants.
Amtrak is a registered service mark of the National Railroad Passenger Corporation.
8 Scenarios:
Free Roam Scenarios
Go Newark
New Jersey Trenton
Spirit or Transportation
The Big Apple
Early Clocker - Philadelphia to New York with multiple intermediate stops.
Evening Clocker - New York to Philadelphia with multiple intermediate stops.
Lucky Northeast Regional - Friday night direct service along the mainline. Its a Friday, and its the 13th. How does your luck run?
The Keystone - Run Amtraks express service between New York and Philadelphia, with only one call en-route at Newark.
West Coast Main Line North
About the Game
The most significant route expansion since the launch of RailWorks, West Coast Main Line North brings you well over 100 miles of highly-detailed railway line, with stations, yards, cuttings, viaducts and stunning scenery. West Coast Main Line North recreates the route between Carlisle and Glasgow as it appeared in the early 1990s, with no less than 26 realistically-modeled stations and halts. Also included is the brand new Class 86 electric locomotive, which was built specifically to haul express passenger services on the route, and which comes with accurate British Rail Mk3 buffered coaches. Built to cover the distance quickly and comfortably, the Class 86 can really stretch its legs on this long and fast line. For a change of pace, there are also full recreations of the yards along the route including Polmadie, Mossend and Kingmoor yards.
Includes:
Accurate recreation of the West Coast Main Line northern section from Carlisle to Glasgow
Class 86 electric locomotive in British Rail Intercity Executive livery
Buffered Mk3 coaches in British Rail Intercity Executive livery
12 scenarios:
Free Roam: Carlisle Station
Pick a train by clicking on it, then explore the route.
Free Roam: Carstairs Station
Pick a train by clicking on it, then explore the route.
Free Roam: Glasgow Central Station
Pick a train by clicking on it, then explore the route.
Free Roam: Mossend Yard
Pick a train by clicking on it, then explore the route.
Free Roam: Motherwell Station
Pick a train by clicking on it, then explore the route.
Free Roam: Polmadie Depot
Pick a train by clicking on it, then explore the route.
Polmadie Hop
Using celebrity 47569 Gloucestershire Regiment form a southbound express at Polmadie depot before hauling it into Glasgow Central.
Hand Over
Drive the Class 86 passenger train assembled in the Polmadie Hop scenario from Glasgow Central down to Carstairs, stopping at Motherwell.
Kingmoor Sunset
Using a Class 37, perform freight shunting duties at Kingmoor, assembling two rakes in preparation for departure all over the WCML.
Carstairs Split (Career System Scenario)
Drive a Class 86 on a semi-fast service to Glasgow Central from Carlisle. The train needs splitting at Carstairs, where the rear four coaches are bound for Edinburgh. Your stops are timetabled.
The Argyle Line (Career System Scenario)
The multiple units usually running on the Argyle line have been suspended this weekend for maintenance so Class 86 hauled stock is being used instead. Try and maintain the usual timetable as you stop at the suburban stations on the line until
Rutherglen.
Scots Pine (Career System Scenario)
Drive a shipment of timber using a Class 47 from Mossend to Kingmoor. You will need to stop at a couple of passing loops to allow priority trains to pass.
Woodhead Line
About the Game
Running from Sheffield to Manchester via the rugged landscape of the Pennines, the Woodhead Line was electrified way back in the early 1950s with the Class 76 electric locomotive being built especially for the line. A major feature of the route is the Woodhead Tunnel system, comprising three tunnels (the third being added specifically for the electrification of the line) to enable the line to run through the hilly landscape of the northern Peak District.
The Class 76 electric locomotive was first produced as a prototype (6701) in 1941, with full production beginning in 1950 in Manchester. Under British Rail, Class 76s hauled freight and passenger services along the Woodhead Line until 1970, after which they handled only freight workings. Now closed to traffic since 1981, the Woodhead Line and its tunnels are still a regular destination for rail enthusiasts and hikers, and they have now been brought back to life in Train Simulator 2012. Download size 842 MB - please check your ISP download restrictions before purchasing.
Key Features:
60-mile Woodhead Line route from Manchester Piccadilly to Sheffield Victoria including Wath branch and Woodhead Tunnels
Class 76 electric locomotive
Class 08 diesel shunter in BR Black
8F Steam Locomotive
Mk1 coaches in crimson livery
7 scenarios, including career and standard, plus 4 free roams
Donner Pass: Southern Pacific
About the Game
Donner Pass: Southern Pacific puts you to the test on this world-famous railroad where engineers deal with steep grades, tight curves and seriously heavy trains as part of a days work. With more than 140 miles of track between Roseville and Reno and the dramatic Sierra Nevada landscape of the Donner Pass itself, there are hours of pleasure to be had driving through this incredible part of North America.
The first railroad through the Sierra Nevada mountains was opened by the Central Pacific Railroad way back in the 1860s, the culmination of a significant engineering challenge with a combination of tunnel-building and tough weather high in the mountains causing numerous problems for the Chief Engineer and his team. The line has changed ownership over the years, and different operators have chopped and changed the track layout and tunnel system in the Donner Pass region in order to keep maintenance costs manageable whilst keeping the railroad operational throughout the seasons.
Donner Pass: Southern Pacific puts you at the controls of Southern Pacific diesels in the early-1990s, taking trains between Roseville, California and Reno, Nevada through the foothills of the Sierra Nevada and high up through the incredible 7,000-foot Donner Pass. The trains are heavy, the railroad is tough and the scenery is awesome. So, start the motor, you have some real challenges ahead...
Includes:
140+ mile railroad line between Roseville Yard, California and Reno, Nevada including the world-famous Donner Pass.
5 diesel locomotives in early 1990s-era Southern Pacific livery:
SW1500 Diesel Switcher
GP9 Diesel Locomotive
SD40-2 Diesel Locomotive
SD40T-2 Diesel Locomotive ('Tunnel Motor')
C44-9W Diesel Locomotive
Scenarios:
5 Free roam scenarios:
Colfax Depot
Truckee Yard
Sparks Yard
Donner Pass
Roseville Yard
7 Standard/Career scenarios:
Doing it Right: Switching freight cars at Roseville Yard
Get Involved: Helping a heavy train over Donner Pass
Together as One: Rescuing a failed train
Cold Play: Inspection of the line in winter
Under Pressure: Drive a heavy train over Donner Pass / weather condition 1
Grade Crossing: Drive a heavy train over Donner Pass / weather condition 2
Installation Instruction:
1. Enter the game folder "... Steam/steamapps/common/railworks" and run "Utilities.exe"
2. Go to "Package Manager" tab
3. Click on "Install"
4. In the dialog box choose the *.rwp file of your desired DLC.
5. Copy *. ncf of the same DLC to:"... Steam/steamapps"
6. make "CHOO CHOO" and start the game
Screenshots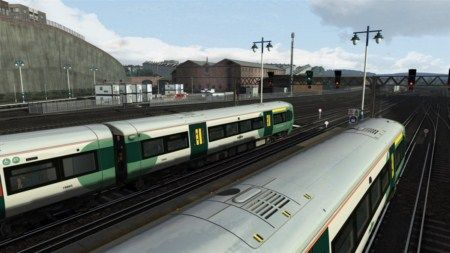 Screenshot
(All below links are interchangable. No password)
Buy a Premium Account Uploaded, Rapidgator & Ryushare = High speed + Parallel Downloads!
From Uploaded (Premium Recommend)

http://uploaded.net/file/zvcpu4to/Train.Simulator.2013.Deluxe.Plus.DLC-IPT.part1.rar
http://uploaded.net/file/gqapfty6/Train.Simulator.2013.Deluxe.Plus.DLC-IPT.part2.rar
http://uploaded.net/file/uu8cspi8/Train.Simulator.2013.Deluxe.Plus.DLC-IPT.part3.rar
http://uploaded.net/file/vkudl8ff/Train.Simulator.2013.Deluxe.Plus.DLC-IPT.part4.rar
http://uploaded.net/file/61e15e3b/Train.Simulator.2013.Deluxe.Plus.DLC-IPT.part5.rar
http://uploaded.net/file/s6hv51h7/Train.Simulator.2013.Deluxe.Plus.DLC-IPT.part6.rar

From Rapidgator (Premium Recommend)

http://rapidgator.net/file/67024012/Train.Simulator.2013.Deluxe.Plus.DLC-IPT.part1.rar.html
http://rapidgator.net/file/67024044/Train.Simulator.2013.Deluxe.Plus.DLC-IPT.part2.rar.html
http://rapidgator.net/file/67024064/Train.Simulator.2013.Deluxe.Plus.DLC-IPT.part3.rar.html
http://rapidgator.net/file/67024086/Train.Simulator.2013.Deluxe.Plus.DLC-IPT.part4.rar.html
http://rapidgator.net/file/67024160/Train.Simulator.2013.Deluxe.Plus.DLC-IPT.part5.rar.html
http://rapidgator.net/file/67024115/Train.Simulator.2013.Deluxe.Plus.DLC-IPT.part6.rar.html

From Ryushare (Premium Recommend)

http://ryushare.com/1f0386656c8f/Train.Simulator.2013.Deluxe.Plus.DLC-IPT.part1.rar
http://ryushare.com/1e1ab1c0b616/Train.Simulator.2013.Deluxe.Plus.DLC-IPT.part2.rar
http://ryushare.com/1f0386656c90/Train.Simulator.2013.Deluxe.Plus.DLC-IPT.part3.rar
http://ryushare.com/1e1ab1c0b617/Train.Simulator.2013.Deluxe.Plus.DLC-IPT.part4.rar
http://ryushare.com/1f0386656c91/Train.Simulator.2013.Deluxe.Plus.DLC-IPT.part5.rar
http://ryushare.com/1fec5b0a8934/Train.Simulator.2013.Deluxe.Plus.DLC-IPT.part6.rar
Train Simulator 2013 Deluxe Plus DLC-IPT (PC/ENG/2012) Speedy Download